How secure is Thirdfort?
Thirdfort was developed to protect organisations and their clients against fraud, money laundering and cybercrime. So, keeping both you and your data protected is our top priority.
Thirdfort is regulated by the Financial Conduct Authority and held to their stringent standards (the same as high street banks!) We're trusted by over 1000 law firms, charities and estate agencies across the UK.
Encryption like the big banks
Thirdfort uses the same high-grade security measures as all the big banks to encrypt your data.
Regulated by the Financial Conduct Authority
Thirdfort is regulated to the same high standard as all the big banks, to make sure your information is as safe as possible.
Certified by the government-backed Cyber Essentials Plus Scheme
They audit Thirdfort's systems and processes annually to make sure everything's safe and secure.
Registered with the Information Commissioner's Officer (ICO)
We're registered with the ICO in relation to the protection of personal data. Our registration number is ZA292762.
GDPR compliant
We comply with the UK General Data Protection Regulation ("UK GDPR") and the Data Protection Act 2018.
Penetration Testing
We conduct regular penetration testing using a combination of internal and external testing experts. An external test is done on the full Thirdfort system every time a major system update is released and again every 12 months minimum. We rotate external testers to ensure we benefit from a broad range of expertise. You can check out more on our architecture below: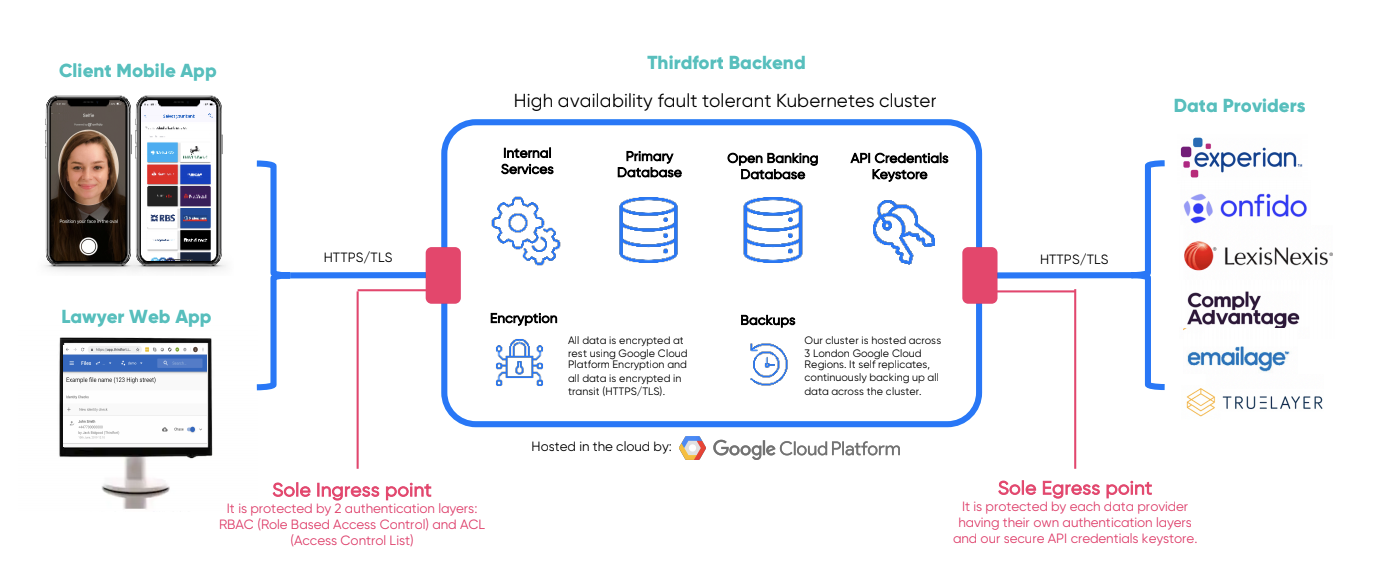 For further information, you can check out our Privacy Policy here.